Use this Google Sheets based cash flow template to manage the day-to-day finances of your organization.
The template pulls payments and receipts data directly into your master sheet and dashboard for automated cash flow analysis. Just log in with your Gmail account to start using the template.
An automated cash flow monitor
Track your company's current cash balance, revenue, and spending with this automated cash flow template and dashboard.
Data flows between interconnected spreadsheets via Sheetgo connections.
No emails or copy-pasting. All in Google Sheets.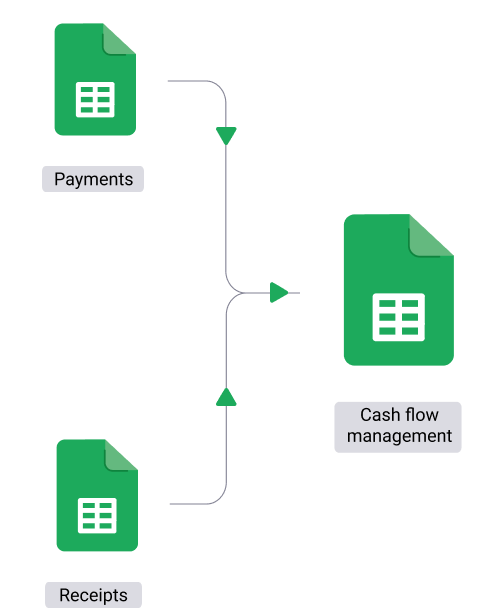 How the cash flow template works
Keep track of payments in this designated spreadsheet. Transfer the data to the master spreadsheet in one click or schedule automatic updates.
The cash flow template also includes a separate receipts spreadsheet. Segregating data ensures confidentiality and reduces the risks of manual error.
The cash flow template consolidates your receipts and payments data into the cash flow master spreadsheet and automated dashboard. Mouse over the chart for detailed analysis.
This cash flow template is composed of three spreadsheets connected with Sheetgo. See how your data is connected, schedule automatic updates and manage the workflow.
The automated cash flow template is based in Google Sheets so you have the freedom and flexibility to customize the cash flow system to your company's needs.
Need guidance building your customized workflow?
Start automating every department in your business with our ready-to-use templates. If you need assistance building your own unique system, our experts can help. 
How other users feel about Sheetgo
"We filter and process data from over 100 connected spreadsheets to provide automated forecasting for our business leaders around the world."                                               
"We pull data from our orders system to create automated work schedules for the 50 dashboards in our factory and generate orders for suppliers."                          
"I use it to selectively share data and use the automatic update feature to update the sheet at midnight, so teachers always have the most current information."
Connect spreadsheets, automate your work.
© 2016-2020 SHEETGO EUROPE SL