Use this spreadsheet-based cash flow system to combine payments and receipts data from across your company and create an automated cash flow monitor that's always up to date. Available in Excel or Google Sheets.
An automated cash flow statement
The Sheetgo cash flow template is a workflow of connected spreadsheets that exchange data between them.
The template combines data from these files to generate expenses and income reports, as well as an automated cash flow dashboard.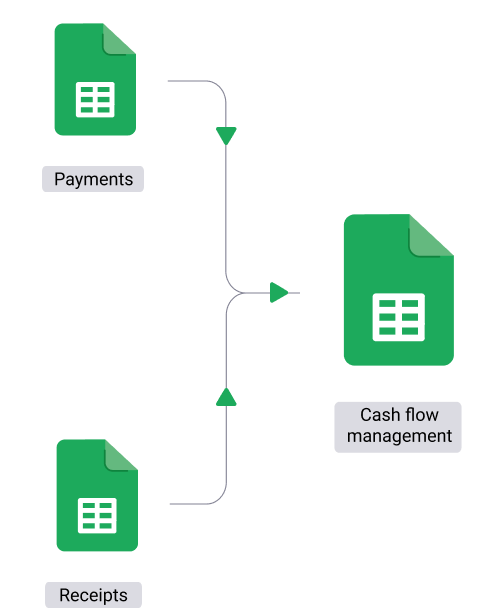 Data reliability
Gathering data from separate spreadsheets gives you more accurate data and complete access control.
Cash flow dashboard
The template pulls together income and expenses data into automated charts for quick and easy analysis.
Save time and money
Keep tabs on your company's cash flow to monitor the health of the business — no accounting software, just spreadsheets.
Looking for a custom cash flow system?
If you want a more comprehensive workflow for your finance team, or you need help using the Google Sheets or Excel cash flow template, talk to our automation experts.
Sheetgo has really enabled our budgeting and forecasting to take off and be a seamless/integrated process."
Jimmy Webb | Senior Finance Analyst, Quantum Spatial
Connect spreadsheets, automate your work.