Employee timesheet management template
Use this spreadsheet-based employee timesheet management system to track employees' working hours and monitor their breaks and arrival times in the automated dashboard. Available in Excel or Google Sheets.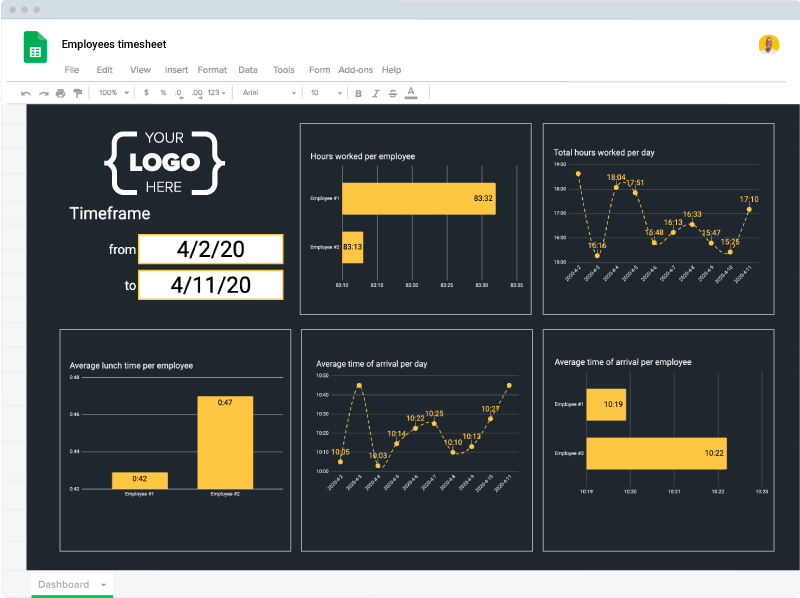 Automated timesheet tracker
The Sheetgo employee timesheet template is a workflow of connected spreadsheets that exchange data between them.
Team members log their working hours in their own personal spreadsheet and this data flows into the manager's central master sheet and dashboard automatically.
Data privacy
Each employee works in their own private spreadsheet and tracks their hours in their personal dashboard.
Monitor working hours
HR get an automated overview of the hours, breaks, arrival, and departure times of every employee in the company.
Scalable system
Just copy and share the timesheet file with additional employees to expand the workflow.
Looking for a custom-built timesheet solution
If you need a more complex workflow for your HR team or you'd like help adapting the timesheet template, talk to our automation experts.
I love this, what a huge time saver to not have to open every file individually! Keep it rolling Sheetgo."
Jeanne Gonzalez |  Round Rock ISD