Sheetgo for Google Sheets
Collect, sync and filter your data — all within Google Sheets. Sheetgo add-on for Google Sheets enables hassle free, no-code data management.
TRUSTED BY OVER 4 MILLION PEOPLE AT COMPANIES LARGE AND SMALL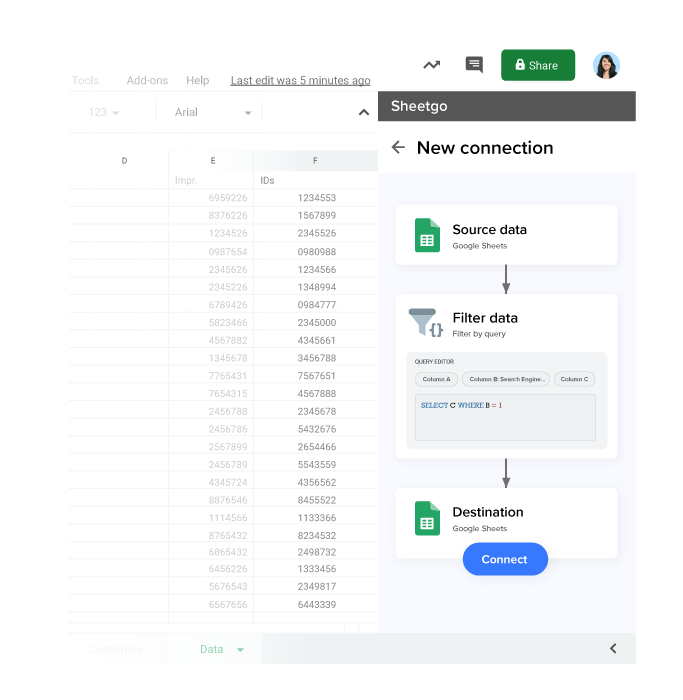 GOOGLE SHEETS ADD-ON
Make connection
Sync data painlessly from one spreadsheet to another without leaving the Google Sheets app. Supercharge your connections by automatically transferring the data that you need.
Connect
Google Sheets, Excel, CSV, and TSV files can all be merged into a single file. You can even sync across cloud platforms.
Filter
Automatically refine your data before sending it to other sheets. Sort by conditionals, Query functions, even cell color. No need to comb through useless data.
Consolidate
Sheetgo connect for Google Sheets lets you collect data from multiple different sources. Bring all the data you need into one convenient list.
Append
Track historic values with the append feature. Don't overwrite previous data, add new data to your list instead.
Distribute
Send filtered data between spreadsheets automatically. Share valuable data with the people who need it instantly.
Automate
Have your data updated automatically with Sheetgo connect. Sync data hourly, daily, weekly, or create a custom update schedule.
"I don't know how I would operate without Sheetgo. I use Sheetgo almost every day."
Paulo Baco, Program Supervisor | Trumbull Career and Technical Center
Connect spreadsheets, automate your work.