HMG Healthcare: An automated and flexible inventory solution to solve critical COVID-19 demands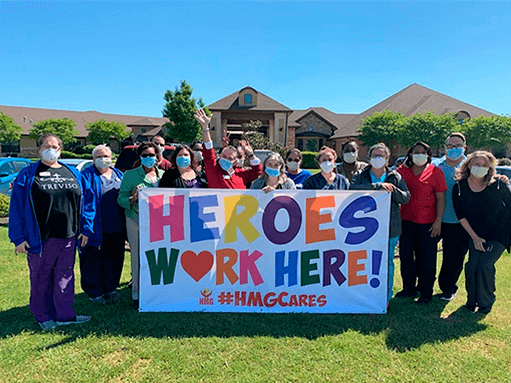 Using Sheetgo, HMG Healthcare now saves 1,120 hours every single year with a custom inventory solution to merge data on 40,000 items from 30 different locations.
As a result, they now have an extra 20+ hours every week to spend on other, more important aspects of their business.
Fulfilling critical COVID-19 demands via spreadsheets
High-demand PPE requests for staff in 30+ locations
Complex inventory with over 40,000 items
Hard to track multiple vendors and fluctuating prices
With the outbreak of the COVID-19 pandemic, HMG faced the challenge of acquiring and distributing personal protective equipment to care staff, as quickly as possible. Global demand made this task more complicated, as HMG had to buy these products from multiple vendors at fluctuating prices. At that time, they were using Excel spreadsheets and manually managing procurement and inventory, which was becoming an extremely time-consuming process.
The new demands imposed by the pandemic made this system unsustainable, and HMG desperately needed an alternative solution.
"Covid-19 challenged us with immediate and significant demands. We were previously spending around 20 hours a week preparing and managing inventory data in spreadsheets."
Rick Cochran, VP, Business Intelligence, HMG Healthcare
HMG reached out to us because they needed a dynamic inventory list to manage the acquisition and distribution of over 40,000 items to 30 different locations, taking into account fluctuations in price for different vendors. They wanted an automated process that would speed up the supply chain and get the PPE sent out to care staff as quickly and directly as possible.
Flexible and dynamic inventory control using Sheetgo
Custom-built inventory management solution
Two-way sync data transfer to speed up supply chain
Automatic updates for the latest inventory insights
With Sheetgo, HMG has created a custom, automated inventory workflow based on Google Sheets. Now their data is clearly divided into two spreadsheets; one containing order requests, and another containing the purchases.
With a two-way sync from their 'Main Inventory' master sheet, Sheetgo automatically determines whether an order can be placed based on PPE availability. If so, the request is approved, and this order is sent directly to the 'Purchases' file. With this synchronisation, the team always have the latest updates, including PPE order confirmation and delivery status.
"It gives me, and the directors, the ability to control the flow of information and who's able to view what. The workflow is really helpful in ensuring we get autonomy and accountability from each department, but we also get accurate information in real-time."
Rick Cochran, VP, Business Intelligence, HMG Healthcare
In the Main Inventory master sheet, HMG have an overall view of the operation, including key metrics such as items per facility, transactions per item, and deliveries pending. To ensure data consistency, a validation on the master sheet is distributed to Requests and Purchases, syncing data in all spreadsheets so everyone has accurate information at all times. Now, if an item is missing at a facility, staff can allocate supplies in one click. Additionally, items can now be sent directly from vendor to facility, which speeds up the supply chain.
Saving 20+ hours per week with a self-sufficient system
1120 hours saved every year
20+ hours saved every week
100% up-to-date inventory metrics
This dynamic inventory workflow has not only saved HMG around 3 working days per week, but they now have a self-sufficient system that can withstand any last minute emergencies or keep up with a sudden surge in demands. What's more, Sheetgo has provided a fully scalable, flexible system that gives HMG full control over dynamic inventory data, with connections and validation that keeps their inventory accurate and up-to-date.
"Sheetgo's automated inventory process is saving us some serious time."
Rick Cochran, VP, Business Intelligence, HMG Healthcare
HMG now has a dynamic inventory system that allows them to track product needs by facility, cost of product, number in inventory, as well as the distribution of each product to the facility with the corresponding price. HMG now have a full customizable, scalable solution that will take them through the pandemic and into the future.
Based in Texas, HMG Healthcare manages 30 specialist nursing and rehabilitation facilities across the US. The company uses a data-driven approach to understand predictors and seeks to improve quality of care using analytics to prescribe the right course of treatment.
Features used
Google Sheets
Google Drive
Inventory solution
Connect
Automatic updates