Leads tracking management template
Use this spreadsheet-based leads tracking system to gather data from your team of sales reps automatically and monitor your sales funnel in the automated dashboard. Available in Excel or Google Sheets.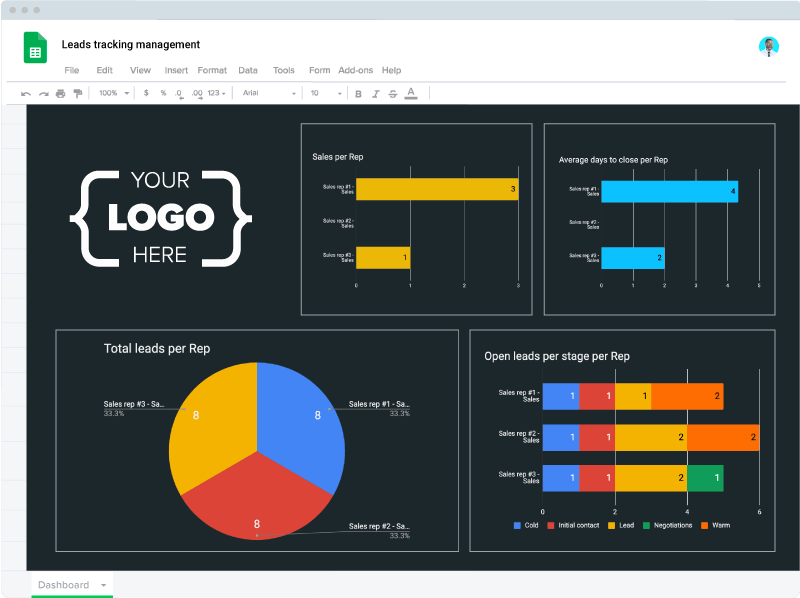 Help reps to sell more
Sales reps get a simple system for tracking and prioritizing sales leads. You receive data automatically so there's no need for status updates and meetings.
Save admin time
Replace time-consuming emails and manual work with an automated workflow. No more outdated spreadsheets or copy-pasting.
Data-driven decisions
Dashboards give you the latest insights to help you manage your team's workload more effectively and make sure the best leads are followed up.
Automate sales lead management
The Sheetgo leads tracking management template is a workflow of connected spreadsheets that exchange data between them.
Each sales rep manages leads in their own personal spreadsheet and data flows into the manager's master file automatically.
Looking for a custom sales workflow?
If you want a tailor-made leads tracking solution for your sales team or you need help using the Google Sheets or Excel template, talk to our automation experts.
Game-changing program. Allows very simple and convenient multi-report updates in the snap of a finger. Thank you to the team for making Google Sheets even more powerful!"
 A Barto | Behemoth Crossfit
Connect spreadsheets, automate your work.