Leads tracking management template
Use this Google Sheets based leads tracking template to save time, track sales leads and measure the performance of your sales team.
Data flows between the interconnected spreadsheets automatically, providing a user-friendly system for sales reps and automated sales lead analysis for the manager.
4 SPREADSHEETS
1 CONNECTION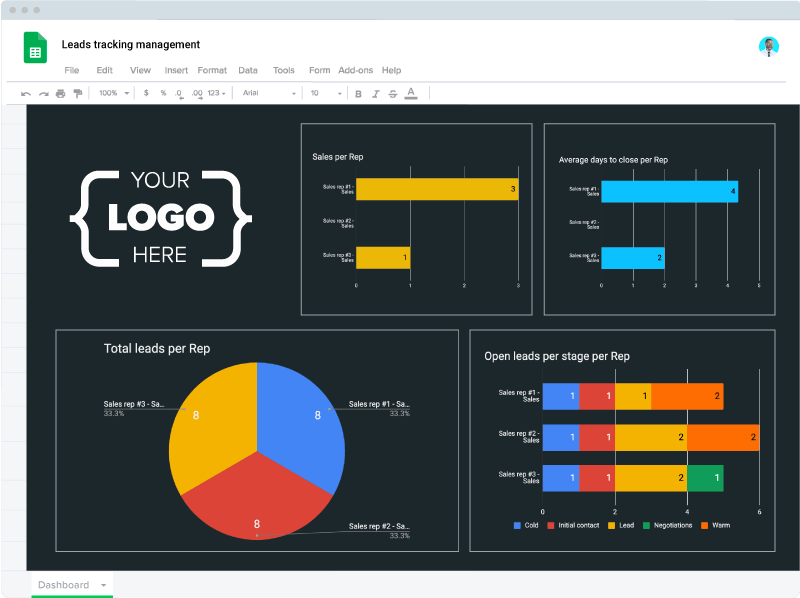 Automate sales lead management
When reps get a new lead or close a sale, they register the details in their personal spreadsheet and the leads tracking template sends the data directly to your master sheet.
Each rep has their own dashboard so they can prioritize and pursue the best leads.
You get an overview of the entire sales pipeline without emails, status meetings, or back-and-forth communication.
Looking for a custom sales workflow?
If you need advice, or a more comprehensive leads tracking solution for your sales team. Talk to our automation experts about custom project design.
Game-changing program. Allows very simple and convenient multi-report updates in the snap of a finger. Thank you to the team for making Google Sheets even more powerful!"
 A Barto | Behemoth Crossfit
Connect spreadsheets, automate your work.
© 2016-2020 SHEETGO EUROPE SL